Festive introduces 'Tinsel Tina' to Wyevale's Cadbury Garden Centre
The Christmas countdown is well and truly underway and there's definitely festive cheer in the air, especially at Bristol's largest garden centre – Cadbury. On the 21st November, Wyevale's Cadbury Garden Centre launched a unique experience for their Christmas shoppers, a tinsel machine called 'Tinsel Tina' which can produce an impressive 24 meters of the long, thin, shiny material every five minutes.
The unveiling of Festive's tinsel machine proved most popular with crowds flocking to meet 'Tina' and her handler, Jason and to watch the retro Christmas decoration being produced, right before their eyes.
Jason was heard to say that he was 'mobbed' by the enthralled crowds who had gathered around Tinsel Tina whilst doing their shopping. The centre manager at Wyevale Cadbury said,
"The tinsel machine was very successful on Saturday – people were really receptive to it and seemed to love it"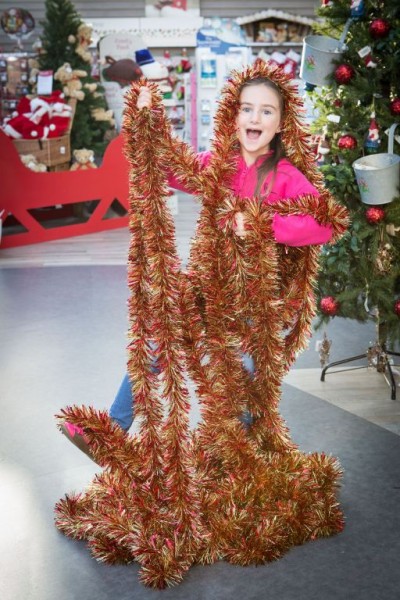 Why do people love tinsel so much?
The popularity of tinsel has never really waned, Festive Productions still produces almost a third of all the tinsel sold in the UK, spinning out 22 metres of tinsel every second. This year though it is thought by some designers to be part of the 'retro revolution' and is being picked by those who want to reminisce Christmases past. For many, just the smell of that shiny decoration is enough to whisk them back to happy childhood memories.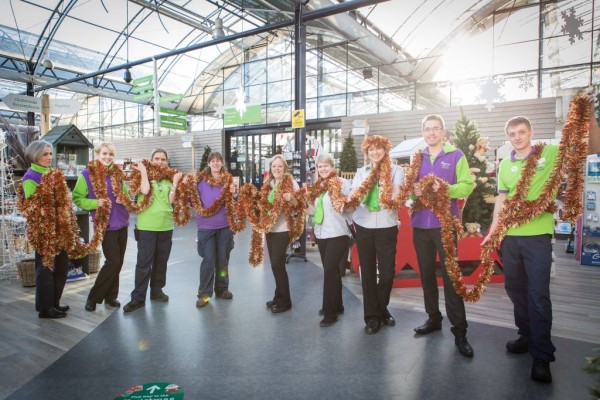 With many designs and low cost options, tinsel is also the popular choice for work desks and dressing up outfits. Add a little tinsel to a head band, hemline or desk front and the office is instantly transformed.
Dates to remember
Come along and see how tinsel is made with Tinsel Tina and receive a FREE sample.
Tinsel Tina is open at Wyevale's Cadbury Garden Centre on the following dates:
Saturday 5th – Sunday 6th December
Saturday 12th – Sunday 13th December
Cadbury Garden Centre offers tinsel in a variety of colours from £2.49. Last year's most popular colours of tinsel were red and gold (closely followed by silver), which again signals a return to the traditional.
Alternatively, Festive Productions not only offer a wide array of styles and colours but they also produce unique tinsel such as Hello Kitty and Disney's Frozen.
For further information on stocking tinsel produced by the UK's number one manufacturer, get in touch one of our regional sales managers, or visit our website for further reading.
Read more about the launch of Tinsel Tina as published in the Bristol Business Post: http://www.bbpmedia.co.uk/news/hospitality/bristol-becomes-new-tinseltown.html