Festive British Decorations
Each year, Festive unveils the design trends likely to dominate Christmas. Amongst the many tendencies defining the 2017 festivities, celebration of British culture is likely to astonish everybody. The traditional spirit of Christmas is associated with cheery elements of British society. At Festive, Britishness is depicted through a gleeful prism to allow a harmonious and merry incorporation into Christmas. Not only do we honour British society through elaborate Christmas Jubilation displays, we also put spotlight on Britain with our marvellous range of decorations inspired by national symbols. In addition to embodying British culture in its entirety and diversity, our ornaments, including hanging decorations, table tops, and room decorations can get anyone into a joyful mood.
Hanging decorations
Our fabulous collection includes decorations ornamented with stylish patterns, such as tartan, and shaped into famous symbols, including Big Ben and the Welsh dragon. Hung on any Christmas tree, our British-inspired ornaments are perfect to bring an ounce of originality to any home.
Glass decorations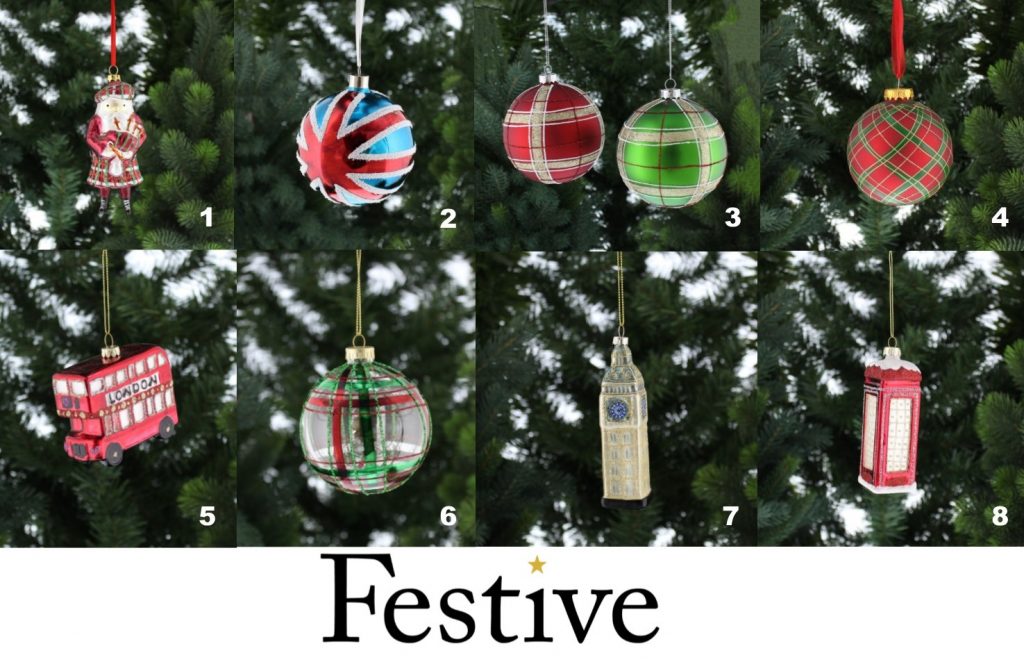 1. 12cm glass Scottish Santa (236220)
2.10cm glass union jack ball (P012783)
3. 8cm 2 asstd glass balls with tartan design (P012788)
4. 10cm glass bauble in tartan (101474)
5. 9cm glass London bus (P012775)
6. 8cm traditional tartan ball (P012831)
7. 13cm glass big ben (P013802)
8. 11cm red glass telephone box (P006939)
Other ornaments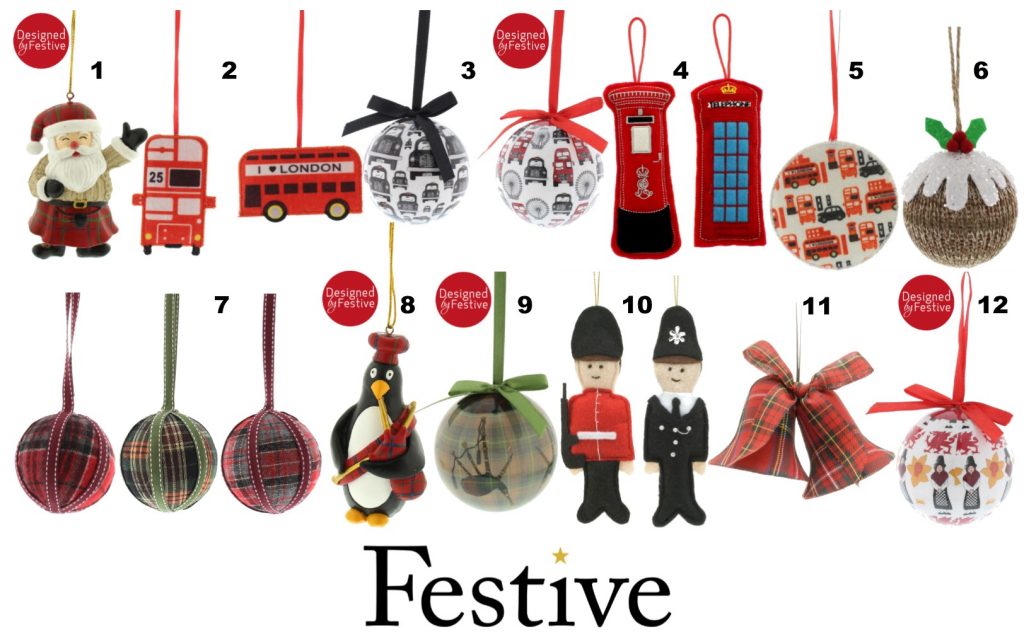 1. 10cm Scottish Santa (P010551)
2. 9cm 2 asstd bus decorations (P013725)
3. 7cm 2 asstd decoupage London icons balls (P012531)
4. 17cm 2 asstd felt decorations – postbox/phone box (P007328)
5. 8cm London icons disc (P013726)
6. 8cm Christmas pudding decoration (P013875)
7. 8cm 3 asstd tartan balls (P013730)
8. 9cm Scottish penguin (P010554)
9. 8cm bagpipe and tartan decoupage ball (P010549)
10. 14cm 2 asstd felt policeman/queens guard (256556)
11. 7.5cm twin tartan fabric liberty bell (120628)
12. 7cm decoupage Welsh icon ball (P012533)
Table tops & room decorations
At Festive, key icons of British culture are made into modern and gleeful decorative items. Our table tops and room decorations can help anyone produce a merry replica of British society at home.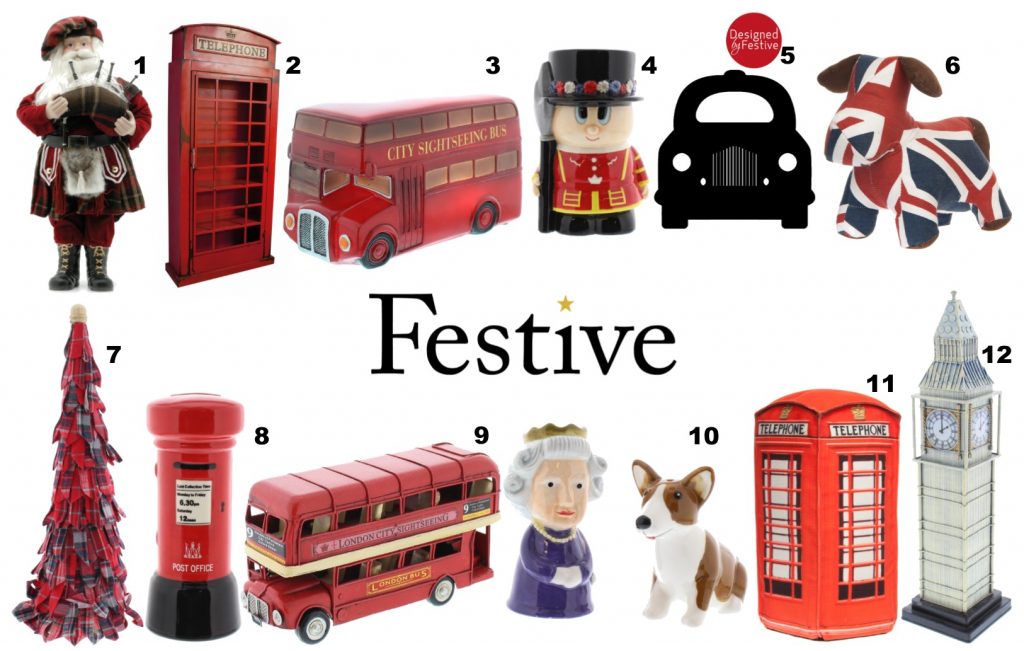 1. 46cm plush standing Scottish Santa (229390)
2. 207cm red display telephone box (P010334)
3. 22cm led double decker bus light (P011681)
4. 14.8cm beefeater money box (P010954)
5. 120cm x 112cm laser cut black wooden taxi (P012289)
6. 28cm little dog door step in union jack fabric (P015594)
7. 50cm tartan tree (P013623)
8. 17cm post box money box (P010956)
9. 19cm double decker bus (P010336)
10. 9.3cm queen and corgi salt and pepper set (P010962)
11. 26.5cm telephone box door stop (P015599)
12. 47cm 1958 big ben (P010342)